Hall of Fame
2019 HALL OF FAME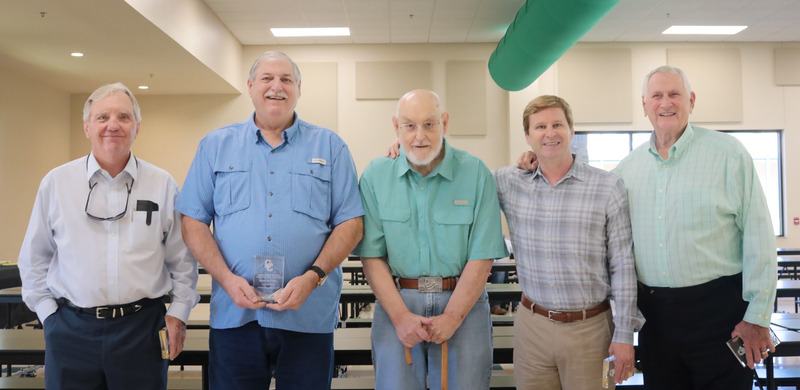 Left to Right: Steve Cook, Doug Bagwell, Donnie Barmore, Steve Johnston and Wallace Martin
Jane Ellen Cook Kuenzle

Jane Ellen was a member of the Cedar Creek Class of 1975. During her high school years, she was member of the Varsity Singers, elected Class Favorite Junior and Senior Year and a member of Who's Who at Cedar Creek – Most Athletic. It is important to note that while in high school, Jane Ellen fell in love with Jesus and shared her faith everywhere she went.
Jane Ellen's natural athleticism allowed her to excel in several sports, basketball, softball and track. Her accomplishments include the following:
Basketball

MVP All four years
All District all four years
All State Junior and Senior
All Star Junior and Senior

Softball
All District – Junior and Senior
All State – Junior and Senior

All Star – Junior and Senior

Track
All District - Junior and Senior
All State – Junior and Senior
Tri-State Winner
State record in the Baseball Throw 235' 10 ½ "

Jane Ellen played for LA Tech 1976 – 1979, where she rallied all of Ruston and the surrounding towns to love Lady Techster Basketball. She helped lead the program to its first Final Four in 1979 when they lost in the title game to Old Dominion. As a starter, she averaged 11.6 points and 3.7 rebounds per game and ranks 25th in Lady Techster scoring with 1,425 points. Jane Ellen played professional basketball for the California Dreamers and for the St. Louis Streaks.
After completing her degree at LA Tech, she coached for a year at the University of Alabama, then in Dallas at Highland High School.
In 1983 she married husband David Kuenzle and they resided in St. Louis where they raised their four children; Ben, Margaret, Caroline and Kate.
Jane Ellen coached at John Burroughs Private School and Villa Duchesne Catholic School in St. Louis. She made a name for herself throughout the city with her 3 on 3 Basketball Clinics for all girls interested in improving their skills. Of course, she used the camps as an opportunity to share her love of Jesus and faith with the young ladies.
Jane Ellen served as a player/coach with the Fellowship of Christian Athletes and was a national speaker and board member for the organization. She also served on the board for St. Louis Young Life and started the St. Louis Women's Prayer Luncheon which is still held today. After a courageous battle with pancreatic cancer, Jane Ellen went to her eternal home with Jesus on May 28, 2018.
We are honored to have Jane Ellen's husband, Dave and her brother, Steve Cook here today. "If Jane Ellen were here this morning, she would tell you that her big brother Steve was the biggest reason for her success in sports. Although she was six years younger, he spent hours, year after year playing basketball with her and teaching her the game. Steve was her hero."

We welcome Dave and Steve to accept Jane Ellen's award as inaugural member of the Cedar Creek School Athletic Hall of Fame.
Doug Bagwell

Douglas Bagwell is a member of the Cedar Creek School Class of 1973, CC's first graduating class. Doug was elected to Who's Who his senior year, the Cougarettes elected Doug as Beau and he was also elected Junior and Senior Favorite.
Doug participated in multiple sports. He was named the most valuable lineman in football and 3 time all-district in baseball. Perhaps his greatest athletic accomplishments were on the basketball court where he was named:
3 time 1st Team All-State -71,72, & 73

All- District
Outstanding Offensive Player
Cedar Creek Career Leader in points – 2,457
Rebounds- 1,556
In the '72 – '73 season he had 965 points and 622 rebounds
Averaged 23.5 points per game and 15.2 rebounds

Doug is married to Suzette McWilliams Bagwell and they have four children. Kathryn,
Cody and wife Susan, Angie and husband Ben Nelson, and Robby and wife Carey. He is retired after careers in the drafting, welding, trucking and equipment industries. Doug is a member of the Fellowship Baptist Church. His favorite past times include spending time with his 10 grand- children and this is a direct quote "changing the rear end of his recliner."

We welcome your family and congratulate you as an inaugural member of the Cedar Creek
Hall of Fame.
Congratulations Douglas Dwain Bagwell.
Donnie Barmore


Donald W. Barmore is the son of the late S.J. Barmore and Melba Crawford Barmore and he has two siblings Michael J. Barmore and Glynda Barmore Hicks. He is a member of the Dubach High School Class of 1964, earned a B.A. in Social Studies Education and a minor in English Education form LA Tech University in 1969 and a MA in Social Studies Education in 1974. Donnie is certified in Social Studies, English, Supervision and Principalship and holds Athletic Trainer Certification.
Coach Barmore began his teaching and coaching career at Cedar Creek school in 1971 and continued through 1989. During this time, he served as the Social Studies teacher, Senior Class Sponsor and FCA Sponsor. His coaching assignments included assistant Football Coach '71-'76, Co-head Track Coach '74, Athletic Trainer '76 – '89 and Swim Coach '85 – '88.
Following his passion for Christ and Youth Ministry, Coach Barmore left Cedar Creek in 1989 to become the full-time youth minister at Trinity United Methodist Church. During his 3-year tenure at Trinity, he directed Junior High, High School and College ministries with a strong emphasis on missions. He organized 6 mission trips to Tennessee's Cumberland Plateau and was instrumental in creating a local mission weekend, Weekend of the Cross that still operates and brings area youth together for a weekend each August to offer assistance to those in need.
In 1992, Donnie returned to Cedar Creek and his passion for teaching social studies. Of course, he was once again the Senior Class Sponsor and led 21 Cedar Creek Senior Class Ski trips to Winter Park, Colorado. He continued to fulfill his love of Christ and youth ministry as the FCA Sponsor. His coaching assignments included Athletic Trainer '92 - '99 and Athletic Director '99 – 2003.
Here is a summation of his teaching and coaching career:
45 years at Cedar Creek as a Social Studies Teacher and Senior Class Sponsor
20 years as the CC Athletic Trainer
45 years as the Cedar Creek FCA Sponsor
3 years Football Coach
3 years Swimming Coach
1 year Track Coach
4 years Athletic Director

When we add this up, we have 121 years of service, all by one very committed and passionate coach, teacher, mentor and most importantly a devoted follower of Christ. In May of 2019 he retired from teaching. He continues to serve through church and community and makes this statement about his philosophy:

"I am a follower of Jesus Christ. Since the age of 12, I felt that the Lord was calling me into a ministry. I didn't have a clue what form that ministry would take, but at age 12 I naturally assumed that the ministry would be as a preacher. By age 25, I came to realize that my ministry was teaching, coaching, counseling, mentoring and influencing the lives of young people in a positive manner. For almost 50 years now, my passion has been to be for the young people in my sphere of influence that person that I needed most in high school and college."

The entire Cedar Creek community has been blessed by Donnie's leadership and we are honored to induct him as an inaugural member of the Cedar Creek Athletic Hall of Fame.
Congratulations Donnie and thank you!
Steve Johnston

Steve Johnston is a member of the Cedar Creek Class of 1977. He is the son of Mrs. Joann Johnston and the late Dr. Jerry Johnston; a Cedar Creek School Founding Family. Steve began his Cedar Creek journey when the school opened its doors the fall of 1970. During his high school years, he was elected as Class Handsome all four years, Most Athletic Senior, National Honor Society, a three-year member of Varsity Singers, Honor Roll. His senior year he was elected Head Boy and Mr. Cedar Creek. Head Boy is todays equivalent of Student Council President.

Steve's exceptional athletic ability allowed him great success in multiple sports. His accomplishments include the following:
Football
All District 1974, 1975, 1976
All State 1975 and 1976
Best Offensive Varsity Back 1974
Most Valuable Offensive Player of The Year for Private Schools in the State of Louisiana 1977
Named to the Cougars All Star Grid Squad 1974, 1975, 1976 & 1977

Career Scoring
Points – 362
Touch Downs – 58
PAT – 7
Points per Season – 90.5
Points per game – 7.9

Steve continues to hold the Cedar Creek Record for Career Rushing Yards
Carries – 721
Total Yards - 4,183
Yards per Carry – 5.8


In 1976 his season rushing record includes;
1,848 yards in 294 carries with 144 points scored

Basketball
Played Varsity all four years
2nd Team All District
Mr. Defense Award
LISA All-Tournament Team 1976
LISA All District AA Basketball Team
Most Assists in a Game - 13
Most Assists in a Season 148
State Champions 1976 & 1977
Mr. Hustle Award 1976 & 1977

Track
State Champion 880 Yard Run 1974 & 1975
Ran the 440 Relay, 880 Yard Relay, Sprint Medley 1977

Steve earned his undergraduate degree from LA Tech and his medical degree from the LSU School of Medicine where he completed his Residency in Radiology and went on to complete a Fellowship at the University of Arkansas School of Medicine in Neuroradiology. Dr. Johnston practices at Radiology Associates West Pasco, Tampa, Fl. and Radiology Associates Venice and Englewood – Sarasota, FL.

Steve and his wife Kim have two daughters, Ayla – 17 and Elle – 15. We welcome the Johnston family and friends and congratulate you as an inaugural member of the Cedar Creek School Athletic Hall of Fame.

Congratulations Dr. Johnston.
Wallace Martin

Wallace Martin is a member of the Ruston High School class of 1960. He is an All State Bearcat Football player and participated in the LHSAA All Star Game. Coach Martin holds a Bachelor of Science and a Master of Arts Degree from LA Tech University. While playing Football for the Bulldogs, he was named the Defensive Player of the Year in 1962, received the Billy Moss Leadership Trophy and was named All Conference in 1963. He was also a member of the LA Tech track team. He earned his Advanced Degree +30 from the University of Arkansas.
Coach Martin's coaching career crosses over several decades and includes the following positions:
West Monroe High School '65 – '66
Head Track & Cross Country Coach
Assistant Football Coach
Assistant Basketball Coach
University of Arkansas '66 – '68
Head Cross Country Coach – winning the Southwestern Conference Championship
Assistant Track Coach
College Football Recruiter

Overseer of the athletic Dorm
University of Louisiana at Monroe '68 – '71
Head Cross Country Coach
Assistant Track Coach
Physical Education Instructor
Won two Conference Championships in Track
LA Tech University '71 – '79
Assistant Football Coach – Offensive Line
· 3 National Championships
· 7 Conference Championships
· 5 Bowl Games
Head Golf Coach
Voted Coach of the Year 1975

Wallace departed from his college coaching years when he joined the Cedar Creek staff in 1979 and remained until 1995. At Cedar Creek he served in the following positions:
Assistant Principal
Athletic Director
Head Cross Country Coach
Head Track Coach
Coach Martin fulfilled his passion for sharing his faith by starting FCA chapters at the University of Louisiana Monroe and LA Tech. He very deservingly was selected as the FCA Coach of the Year and Ruston's Outstanding Young Man of the Year. This statement shares his faith and philosophy, "Only one life, that soon will be passed; Only what is done for Christ will last."

It is also very apparent that Wallace had a passion for coaching and mentoring youth and young adults in a variety of sports over several decades. But it seemed apparent that he was happiest coaching cross country and track and field. Under his leadership, the 1987 inaugural Boy's Cross Country team won the State Championship. This was one of 12 combined State Championships in Cross Country and Track Field.

Cedar Creek's current Cross Country Coach who is also the area Director for North Central Louisiana FCA, Craig Moss shared these thoughts.

"In 1987, Wallace Martin began the Cedar Creek XC program and won the state championship in the first year of existence. The Cedar Creek cross country team continued to blossom into a perennial powerhouse team over several decades. In 2017, we chose to honor the gentleman who began this historical program. Thus, the Wallace Martin Cedar Creek Invitational was established. Now in its third year, the Wallace Martin Cedar Creek Invitational is one of the largest meets in Louisiana with close to 2000 runners participating. It is because of his presence, his love, commitment and devotion to our athletes and our school that we honor him with this lasting tradition. His legacy is defined in the lives he has served and his commitment to excellence. Hearing his 1987 team reminisce about their workouts and what Coach Martin did to define their lives was inspiring. It is truly an honor to have Wallace Martin as an influence in our lives."

Coach Martin continues to serve the Cedar Creek community as our agent with the Clinton Insurance Agency. It is no surprise that he continues to volunteer with the Cedar Creek Track Team and with FCA. He and his wife Suzan Napper Martin have 2 children Greg M. Martin Class of '87 and Leigh-Baskin Martin Robbins – Class of '91. They are the proud grandparents of Brennan, Madison and Baker Martin who reside in Birmingham AL and Alexandra and Parks McConnell who are current CC students.
Suzan and Wallace are regulars at all CC sporting events!

We welcome the Martin family and friends and congratulate Coach Wallace Martin as an inaugural member of the Cedar Creek Athletic Hall of Fame.
Frankie Garcia (not pictured)

Frankie Garcia is a member of the Cedar Creek Class of 1988. He was a high school stand out in track and field and a member the Cedar Creek inaugural Cross Country Team.
Frankie's passion for running allowed him to excel in both Track and Field and Cross Country. His high school accomplishments include:
Freshman
LHSAA 3rd Place overall finish
LISA State Champion - 1600 Meter Run
LISA State Champion – 3200 Meter Run
Fastest 14-year-old in the nation for the 3000-meter run with a time of 9:20.51

Sophomore
Qualified for the Junior Olympic National Championships in Lincoln Nebraska

Junior
State Championship Runner up in the 1600 Meter Run and 3200 Meter Run

Senior
Cross Country Team State Champion
Individual Cross Country State Champion
State Champion 1600 Meter Run
State Champion 3200 Meter Run with state record time of 9:36.24
Only High School student to be invited to compete in a collegiate meet where he places 2nd to LA Tech Senior Muriuki Ngatia of Kenya

College
LA Tech – 5th overall Tech Cross Country Invitational – Freshman

Sophomore transfer to UTSA – ranked 4th in the NCAA DIV I CROSS COUNTRY
Ran 14:45 in the 5000
Ran 25:01 in the 5-mile Cross Country to place 3rd overall - full scholarship as a walk on

Junior
Tied Randy Reina, US National 10,000 Meter Leader's record with a 5000 Meter Run time of 14:35

Senior
Sponsored by Mitsubishi and
Run A Way Runners Store – Nike B Team

As a professional runner, Frankie trained for the Olympic Trails of 1992 and came within one second of the 4-minute mile barrier.

Frankie resides in Hondo, Texas where he is the owner and operator of Pancho and Lefty Tattoo and Supply. He has two children and one grandson; Lindsay Michele Garcia and son Ian and Matthew Garcia. Matthew is a student at Mount Union College where he plays football. Mt. Union won the NCAA Championship Game in 2017, his freshman year. Also joining Frankie today is his girlfriend Ruby Correa.

We welcome the Garcia family and friends and congratulate Frankie as an inaugural member of the Cedar Creek Athletic Hall of Fame.

Congratulations Frankie Garcia.