Athletic Hall of Fame
Wallace Martin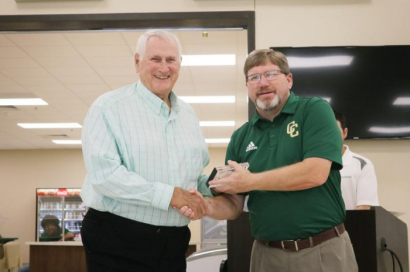 Wallace Martin is a member of the Ruston High School class of 1960. He is an All State Bearcat Football player and participated in the LHSAA All Star Game. Coach Martin holds a Bachelor of Science and a Master of Arts Degree from LA Tech University. While playing Football for the Bulldogs, he was named the Defensive Player of the Year in 1962, received the Billy Moss Leadership Trophy and was named All Conference in 1963. He was also a member of the LA Tech track team. He earned his Advanced Degree +30 from the University of Arkansas.
Coach Martin's coaching career crosses over several decades and includes the following positions:
West Monroe High School '65 – '66
Head Track & Cross Country Coach
Assistant Football Coach
Assistant Basketball Coach
University of Arkansas '66 – '68
Head Cross Country Coach – winning the Southwestern Conference Championship
Assistant Track Coach
College Football Recruiter
Overseer of the athletic Dorm
University of Louisiana at Monroe '68 – '71
Head Cross Country Coach
Assistant Track Coach
Physical Education Instructor
Won two Conference Championships in Track
LA Tech University '71 – '79
Assistant Football Coach – Offensive Line

3 National Championships
7 Conference Championships
5 Bowl Games

Head Golf Coach
Voted Coach of the Year 1975
Wallace departed from his college coaching years when he joined the Cedar Creek staff in 1979 and remained until 1995. At Cedar Creek he served in the following positions:
Assistant Principal
Athletic Director
Head Cross Country Coach
Head Track Coach
Coach Martin fulfilled his passion for sharing his faith by starting FCA chapters at the University of Louisiana Monroe and LA Tech. He very deservingly was selected as the FCA Coach of the Year and Ruston's Outstanding Young Man of the Year. This statement shares his faith and philosophy, "Only one life, that soon will be passed; Only what is done for Christ will last."

It is also very apparent that Wallace had a passion for coaching and mentoring youth and young adults in a variety of sports over several decades. But it seemed apparent that he was happiest coaching cross country and track and field. Under his leadership, the 1987 inaugural Boy's Cross Country team won the State Championship. This was one of 12 combined State Championships in Cross Country and Track Field.

Cedar Creek's current Cross Country Coach who is also the area Director for North Central Louisiana FCA, Craig Moss shared these thoughts.

"In 1987, Wallace Martin began the Cedar Creek XC program and won the state championship in the first year of existence. The Cedar Creek cross country team continued to blossom into a perennial powerhouse team over several decades. In 2017, we chose to honor the gentleman who began this historical program. Thus, the Wallace Martin Cedar Creek Invitational was established. Now in its third year, the Wallace Martin Cedar Creek Invitational is one of the largest meets in Louisiana with close to 2000 runners participating. It is because of his presence, his love, commitment and devotion to our athletes and our school that we honor him with this lasting tradition. His legacy is defined in the lives he has served and his commitment to excellence. Hearing his 1987 team reminisce about their workouts and what Coach Martin did to define their lives was inspiring. It is truly an honor to have Wallace Martin as an influence in our lives."

Coach Martin continues to serve the Cedar Creek community as our agent with the Clinton Insurance Agency. It is no surprise that he continues to volunteer with the Cedar Creek Track Team and with FCA. He and his wife Suzan Napper Martin have 2 children Greg M. Martin Class of '87 and Leigh-Baskin Martin Robbins – Class of '91. They are the proud grandparents of Brennan, Madison and Baker Martin who reside in Birmingham AL and Alexandra and Parks McConnell who are current CC students.
Suzan and Wallace are regulars at all CC sporting events!

We welcome the Martin family and friends and congratulate Coach Wallace Martin as an inaugural member of the Cedar Creek Athletic Hall of Fame.