Middle School

At Cedar Creek, our strong Middle School curriculum lays a foundation for the challenges of high school and beyond. We strive to make Middle School a caring and supportive transition from elementary to the rigorous demands of high school.
The Middle School curriculum features traditional departmentalized courses of study in all of the major academic areas. We focus on balancing basic skills development with enrichment opportunities important to early adolescent social, emotional and physical growth.
Learning technology
Beginning in sixth grade, Cedar Creek integrates 1:1 iPads into the curriculum, with teachers and students using essential technology tools for 21st century learning. A modern computer lab provides instructional and meeting space for our popular Introduction to Business Computer Applications course and a new after-school Coding Club.
Programs for the academically gifted
Students who benefit from an accelerated learning environment may apply for the Advanced Honors Program in English, mathematics, and science. These courses lay the foundation for Advanced Placement (AP) coursework in high school.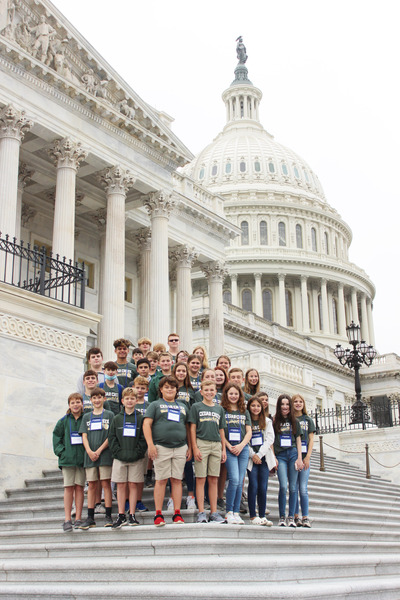 Clubs, activities, and service
Through a variety of clubs and organizations, students are guided to develop social and leadership skills and to make thoughtful and moral decisions. Cedar Creek's National Junior Honor Society recognizes students of exceptional academic achievement.
Theme Days and trips
Quarterly "Green and Gold Day" events reward students who have exhibited good behavior and performance with a field trip or special activity. Middle School students also participate in school-wide spirit days and other activities.

Class trips are a big part of the Middle School experience. Sixth graders travel to Dallas each year for the Medieval Times Dinner and Tournament.
In seventh grade, we offer an opportunity for a 4-day trip to Washington, D.C. to visit national memorials, museums, Arlington Cemetery, the National Cathedral, the Smithsonian, the Capitol, the White House, and Mt. Vernon.
In eighth grade, students take a three-day tour of New Orleans, Baton Rouge, Lafayette, and other parts of South Louisiana. They learn about the many interesting cultures and history that make Louisiana unique.


---