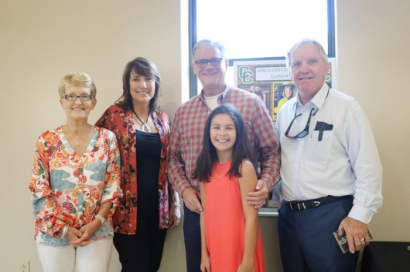 Jane Ellen was a member of the Cedar Creek Class of 1975. During her high school years, she was member of the Varsity Singers, elected Class Favorite Junior and Senior Year and a member of Who's Who at Cedar Creek – Most Athletic. It is important to note that while in high school, Jane Ellen fell in love with Jesus and shared her faith everywhere she went.
Jane Ellen's natural athleticism allowed her to excel in several sports, basketball, softball and track. Her accomplishments include the following:
Basketball
MVP All four years
All District all four years
All State Junior and Senior
All Star Junior and Senior
Softball
All District – Junior and Senior
All State – Junior and Senior
All Star – Junior and Senior
Track
All District - Junior and Senior
All State – Junior and Senior
Tri-State Winner
State record in the Baseball Throw 235' 10 ½ "
Jane Ellen played for LA Tech 1976 – 1979, where she rallied all of Ruston and the surrounding towns to love Lady Techster Basketball. She helped lead the program to its first Final Four in 1979 when they lost in the title game to Old Dominion. As a starter, she averaged 11.6 points and 3.7 rebounds per game and ranks 25th in Lady Techster scoring with 1,425 points. Jane Ellen played professional basketball for the California Dreamers and for the St. Louis Streaks.
After completing her degree at LA Tech, she coached for a year at the University of Alabama, then in Dallas at Highland High School.
In 1983 she married husband David Kuenzle and they resided in St. Louis where they raised their four children; Ben, Margaret, Caroline and Kate.
Jane Ellen coached at John Burroughs Private School and Villa Duchesne Catholic School in St. Louis. She made a name for herself throughout the city with her 3 on 3 Basketball Clinics for all girls interested in improving their skills. Of course, she used the camps as an opportunity to share her love of Jesus and faith with the young ladies.
Jane Ellen served as a player/coach with the Fellowship of Christian Athletes and was a national speaker and board member for the organization. She also served on the board for St. Louis Young Life and started the St. Louis Women's Prayer Luncheon which is still held today. After a courageous battle with pancreatic cancer, Jane Ellen went to her eternal home with Jesus on May 28, 2018.
We are honored to have Jane Ellen's husband, Dave and her brother, Steve Cook here today. "If Jane Ellen were here this morning, she would tell you that her big brother Steve was the biggest reason for her success in sports. Although she was six years younger, he spent hours, year after year playing basketball with her and teaching her the game. Steve was her hero."

We welcome Dave and Steve to accept Jane Ellen's award as inaugural member of the Cedar Creek School Athletic Hall of Fame.