Athletic Hall of Fame
Steve Johnston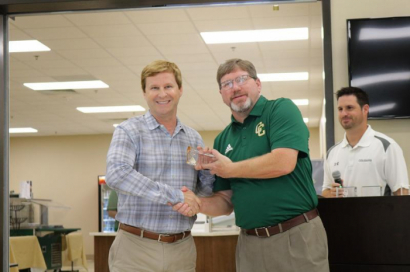 Steve Johnston is a member of the Cedar Creek Class of 1977. He is the son of Mrs. Joann Johnston and the late Dr. Jerry Johnston; a Cedar Creek School Founding Family. Steve began his Cedar Creek journey when the school opened its doors the fall of 1970. During his high school years, he was elected as Class Handsome all four years, Most Athletic Senior, National Honor Society, a three-year member of Varsity Singers, Honor Roll. His senior year he was elected Head Boy and Mr. Cedar Creek. Head Boy is todays equivalent of Student Council President.
Steve's exceptional athletic ability allowed him great success in multiple sports. His accomplishments include the following:
Football
All District 1974, 1975, 1976
All State 1975 and 1976
Best Offensive Varsity Back 1974
Most Valuable Offensive Player of The Year for Private Schools in the State of Louisiana 1977
Named to the Cougars All Star Grid Squad 1974, 1975, 1976 & 1977
Career Scoring
Points – 362
Touch Downs – 58
PAT – 7
Points per Season – 90.5
Points per game – 7.9
Steve continues to hold the Cedar Creek Record for Career Rushing Yards
Carries – 721
Total Yards - 4,183
Yards per Carry – 5.8
In 1976 his season rushing record includes;
1,848 yards in 294 carries with 144 points scored

Basketball - Played Varsity all four years
2nd Team All District
Mr. Defense Award
LISA All-Tournament Team 1976
LISA All District AA Basketball Team
Most Assists in a Game - 13
Most Assists in a Season 148
State Champions 1976 & 1977
Mr. Hustle Award 1976 & 1977
Track
State Champion 880 Yard Run 1974 & 1975
Ran the 440 Relay, 880 Yard Relay, Sprint Medley 1977
Steve earned his undergraduate degree from LA Tech and his medical degree from the LSU School of Medicine where he completed his Residency in Radiology and went on to complete a Fellowship at the University of Arkansas School of Medicine in Neuroradiology. Dr. Johnston practices at Radiology Associates West Pasco, Tampa, Fl. and Radiology Associates Venice and Englewood – Sarasota, FL.

Steve and his wife Kim have two daughters, Ayla – 17 and Elle – 15. We welcome the Johnston family and friends and congratulate you as an inaugural member of the Cedar Creek School Athletic Hall of Fame.

Congratulations Dr. Johnston.