Latest News & Announcements
Top Volunteers
December 18, 2018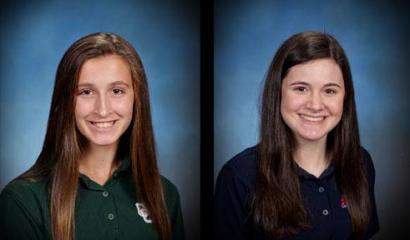 Cedar Creek School recently named seventh grader Elli Dickerson and sophomore Kate Walker its top youth volunteers of the year.
The honor was granted as part of the Prudential Spirit of Community Awards, a nationwide youth volunteer recognition program.
By selecting Dickerson and Walker as its top youth volunteers, Cedar Creek School has advanced their applications for state-level judging in the 2019 Prudential Spirit of Community Awards program. Prudential will announce Louisiana's top youth volunteers of the year in February.
Dickerson's commitment to serving her community with funds raised from Elli's Pumpkin Patch and Walker's determination to spread awareness about disabilities through her experiences with Friedreich's Ataxia benefit numerous individuals and organizations.
Cedar Creek School also recognized sophomore Autumn Moon for her exemplary volunteer service with Prudential Spirit of Community Certificates of Merit.
Moon's LabelMe business encourages individuals to select and model positive labels for themselves.
As local honorees, Dickerson and Walker are now in the running to be named Prudential Spirit of Community state honorees for Louisiana. State honorees receive a $1,000 award and an all-expense-paid trip with a parent or guardian to Washington, D.C., for several days of special recognition events.
More News & Announcements