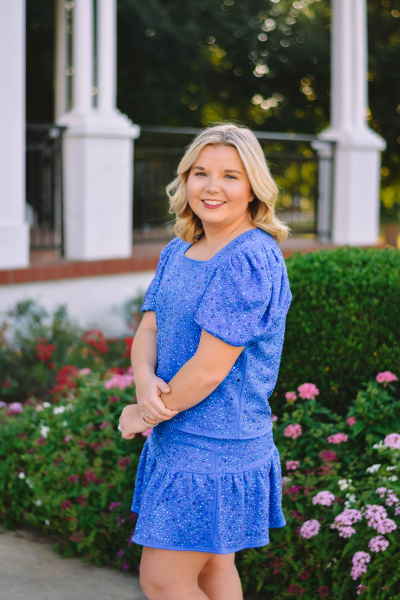 Dependable, kind, and perpetually happy is the way Tobie Bimle, a 2019 Cedar Creek graduate, is remembered by her teachers.
While at Cedar Creek, she was a leader on the cheerleading team and actively involved in a variety of sports and clubs. Today, Bimle is a sales executive and social media coordinator for Reeves and Company Showroom.
Bimle credits Cedar Creek for where she is today. "I had great teachers like Coach Barmore, who helped prepare me for what a college course would be like," she stated. She remembers Mrs. Kim Klug as being her biggest cheerleader and greatest supporter of her decision to pursue her dream of being in the fashion industry, a field in which Klug herself trained. Klug also served as Bimle's cheer sponsor and warmly shares her memories of their time together. "Tobie was not afraid to get a plan together and put it into action. She had the ability to get everyone on board with her ideas and make whatever it was, better. She exemplified her leadership role in Varsity Cheer by going above and beyond the duties of an officer to develop close relationships with her peers," Klug said.
Not only did her teachers lay the foundation for Bimle's college success, but the school's broad curriculum allowed her to be more prepared for university courses than some of her fellow classmates. Bimle writes, "In Mrs. Craft's digital graphics class, I learned how to use Adobe Software." This was fortunate for her because she needed the experience for the technology classes she would take in college. These lessons inspired her love of graphic design which Bimle currently uses as a social media coordinator. "Tobie was eager to learn" says former teacher Liz Craft. "She never shied away from any task asked of her."
Juggling sports, cheer, and academics can be tough on a teenager, so Tobie would often wind down at her favorite spot on campus, Mrs. Buffy's art room. "Whenever I had a stressful day or needed a listening ear, I always knew I could go to Mrs. Buffy's room and she would welcome me with open arms," Tobie says. "Tobie was and still is a friend to all that know her. She is kind, loyal, and creative," says former teacher Buffy Walker. "She is incredibly talented in the works of fashion and not too bad with a tennis racquet."
Bimle believes that Cedar Creek distinguishes itself further through the opportunities offered to students to enroll in college courses while in high school. Cedar Creek currently offers fifteen courses in which students can earn college credits before stepping foot on a college campus. The school also partners with Louisiana Delta Community College for welding courses and Brigham Young University for advanced language courses. "When preparing for college, Mrs. Stacy Doyal Hunt was such a great resource for all my questions and concerns. Taking dual enrollment classes through Louisiana Tech helped prepare me for the college level curriculum," Bimle adds.
Today, Bimle works with some incredible people in the fashion industry. She has experienced twelve markets and trade shows across the country while working alongside global brands such as Molly Braken, KUT from the KLoth Denim, Emily McCarthy S'edge, and Queen of Sparkles.
When asked if she has any advice for current students, she responded by saying, "Life after school is fast-paced, so enjoy spending time at home with your family. For most people in high school, this will be the last time to live in their parents' house, so cherish those precious moments."
"I am very thankful I had the opportunity to attend Cedar Creek from PreK to senior year," Bimle says. The education and personal growth she experienced at Cedar Creek played a huge part in molding her into the person she is today.