Achievements
Amongst the greats
September 1, 2015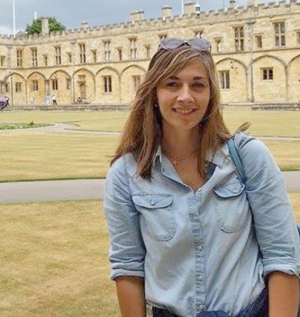 It's one thing to study literature from a book.

It's quite another to stand in the home of Shakespeare, to see Richard II at London's Globe Theatre, or to learn from some of the great literary professors at Oxford University in England.

Such is the stuff English teachers dream of.

Just ask Cedar Creek's Barbara Glenn, who spent part of her summer attending an Advanced Placement seminar at Oxford, the oldest university in the English-speaking world.
"It was like Disney World for nerds," Glenn quipped.

Trip highlights included "being able to see and experience all the things I've been talking about in class" at Cedar Creek, where she's been an instructor for 10 years.

It's the fourth year for her to attend an AP institute.

Glenn not only was able to confer with other English teachers from around the world, but she was also able to attend two Shakespearean plays at Oxford and one at the Globe Theatre in London.

She visited the Eagle and Child pub where J.R.R. Tolkien, C.S. Lewis and other literary enthusiasts met to exchange ideas.

Glenn was inspired by her fellow teachers at the institute as well as her instructor, Oxford's head of the English Department, Dr. David Bradshaw, who's been published more than 40 times.

"He's one of the most pre-eminent professors in the world," Glenn said.

Glenn is looking forward to infusing her enthusiasm and recently gained knowledge into the AP English classes at Cedar Creek.

"I'm just so grateful that I teach at a school that encourages professional development" at this level, she said.

Others who attended AP institutes include Anna-Marie Weis: AP Art History Workshop – University of Texas; Robin Ewers: AP English/Language Arts Workshop – Southern Methodist University; and Christy Mabou: AP Chemistry Workshop – Rice University.
More Achievements