Achievements
Kelly O'Neal, all-around cowgirl
October 21, 2014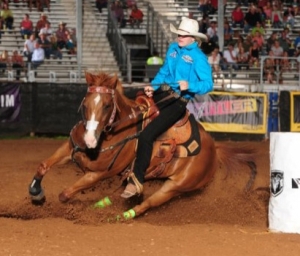 Cedar Creek's Kelly O'Neal is one all-around cowgirl. Literally.
A sophomore, Kelly has recently won the All-Around Girl (high point) at the Bell City High School Rodeo. She was also first in barrel racing, fifth in breakaway roping, fifth in goat tying and sixth in pole bending.
She adds this win to dozens of other awards, including an exceptional finish in barrel racing at the National High School Rodeo Finals this summer and the Junior High Nationals last year.
Kelly, the daughter of Gay and Tom O'Neal, works hard for her successes. She spends many hours every day after school at the barn exercising her horses and practicing.
Kelly expects to continue her studies after graduating, possibly majoring in business.
To learn more about Kelly's outstanding equestrian achievements, visit these links:
http://www.sulphurdailynews.com/article/20140609/SPORTS/140609659/10061/SPORTS?template=printart
http://www.rodeosportsnetwork.com/LHSRA
More Achievements