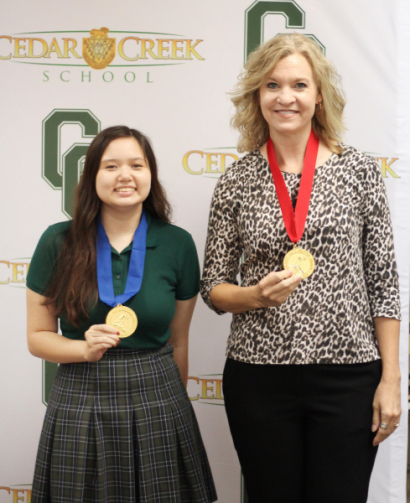 Junior Reagan Nguyen and her AP English teacher, Mrs. Leeanne Bordelon, received their national medals from the 2021 Scholastic Art & Writing Awards last month.

Reagan, the daughter of Dr. Hoa and Krista Nguyen, is Cedar Creek's second consecutive national gold medalist in the writing competition. She is one of only nine Louisiana teens who earned top honors in 2021 and the only student from North Louisiana to earn gold.

Gold medals are awarded to fewer than one percent of submissions to the competition, which this year had more than 80,000 students and nearly 230,000 entries. Teachers whose students earn gold are also recognized by Scholastic as outstanding educators.
Mrs. Bordelon is beginning her seventh year at Cedar Creek and her 17th in education. She has a master's degree in education from Northwestern State University and has worked with National Writing Project's College-Ready Writers Program (now C3WP).
"The opportunity to write for a real audience is one of the most valuable experiences teachers can provide," Mrs. Bordelon said. "Students who know their voices will be heard are much more likely to invest in a piece of writing, to work on skills, to complete multiple drafts."

Mrs. Bordelon said Cedar Creek's outstanding performance in contests like this one is evidence of our strong academic programs.

"Achievements like Reagan's show that Cedar Creek students continue to excel not just in Lincoln Parish but across our region and nation," she said.

The Scholastic Art & Writing Awards is open to students in grades 7-12. Seniors who submit a portfolio of writing or artwork may compete for scholarships up to $10,000. Ask your English teacher for details on how to enter!